5 Best Gutenberg Blocks Plugins For WordPress In 2022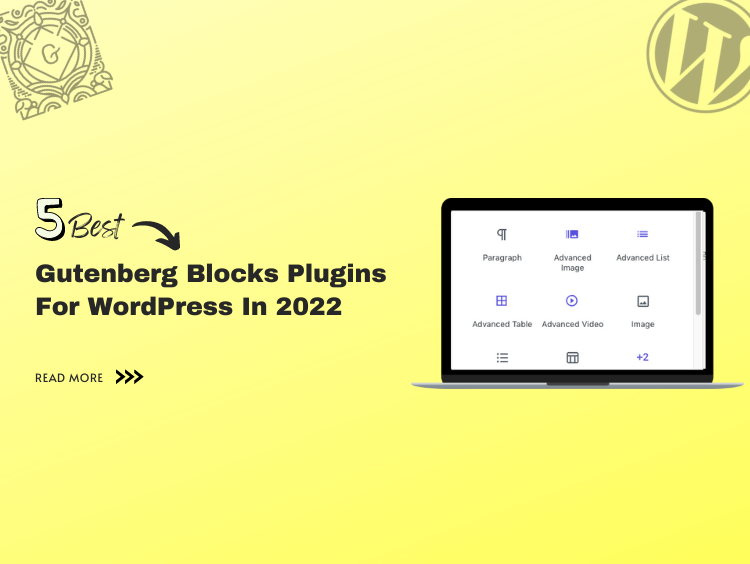 As WordPress continues to grow in popularity, more and more people are looking for ways to make their websites stand out from the crowd.
One way to do this is by using Gutenberg Blocks plugins to add custom functionality and style to your pages.
In this article, we will take a look at some of the best Gutenberg WordPress plugins available in 2022. To get started, let's first understand what the WordPress Block Editor and Gutenberg Blocks are.
What is the WordPress Block Editor?
If you've ever used WordPress, then most likely you are familiar with the classic editor. It first entered the scene in 2004 and hasn't had much innovation since then. However, it maintains a strong following.
WordPress 5.0 introduced the new block editor, which was a big leap from the original. Many users were not ready for the change and opted to disable the block editor and install back the classic one.
As an effort to support the original users, WordPress added a block dedicated to the classic editor. You can now run it on top of the block editor simply by choosing the classic editor block element.
However, we do highly recommend using the new block editor. It adds a ton of options that just are not possible with the classic editor.
So, what exactly is the block editor?
The WordPress block editor is a new way of writing and editing content on your site. It's a visual editor that allows you to drag and drop blocks of content into place on your posts and pages.
The block editor gives you more flexibility with how you arrange your content and more options for formatting.
Plus, most themes have been designed with the WordPress block editor in mind, so there's no extra work required to make them work with this new tool.
So, instead of working with one big block of text, you can now divide your content into smaller blocks using the Gutenberg block builder. This makes it easier to rearrange your content and add new elements.
It also lets you format your text in different ways, such as turning an ordered list into bullet points or converting a paragraph to a heading.
WordPress blocks are still in their early stages, but it's already proving to be a powerful tool for users.
What are Gutenberg Blocks?
WordPress Gutenberg Blocks are the building blocks of the WordPress Block Editor. They let you add different types of content to your pages, such as images, videos, lists, and more.
All the same features you've known to love in the classic editor.
Why Gutenberg you ask?
The real power in WordPress Gutenberg blocks comes from the reusable blocks, which significantly extend the functionality of the editor.
They can be moved, arranged, and connected to create an endless variety of layouts without writing a single line of code or touching a single line of CSS. For example, adding buttons, cover images, tables, and so on.
As well, many of the Gutenberg WordPress plugins further extend these elements. You can even create your own custom Gutenberg blocks. The options are endless.
There is already a wide variety of Gutenberg blocks WordPress plugins available to download, and new ones are being created all the time. Each plugin offers more functionality as you need.
How Do Gutenberg Plugins Work?
Gutenberg WordPress plugins work by adding new blocks to the WordPress block editor. Once installed, these blocks will be available for you to use on any post or page.
Simply click on the block inserter icon in the menu toolbar and select the block you want to add. It's that easy!
In addition to adding new blocks, Gutenberg plugins can also change the way existing blocks work. For example, you could install a plugin that adds new options to the listed block, such as the ability to change the font size or add custom colours.
Now that we've covered the basics, let's take a look at some of the best Gutenberg block plugins available in 2022.
1. PublishPress Blocks

PublishPress Blocks (Gutenberg Blocks) provide WordPress users with added functionality and control over the content creation process. With 20+ Gutenberg blocks, you can easily create professional websites for any niche.
Features:
Content display block for creating layouts, blog lists by author, newspaper-style front page, and more
Over 20 extra blocks including tables, tabs, sliders, galleries, accordions, etc.
Block templates to help you get started with your website
Custom CSS for each block such as the ability to change the font size or add custom colours
Block editor permissions give you control of who can use the blocks
Compatible with all major WordPress themes and plugins
Fully responsive and mobile-friendly
Price: PublishPress Blocks is a free plugin. However, there is also a pro version available that starts at $49 per year.
2. Genesis Blocks
Formerly known as Atomic Blocks, this powerful WordPress plugin is a standout for creating beautiful designs. From full-page layouts to customizable page sections designed for speed and increased engagement.
Features:
A collection of pre-designed premium blocks that you can use to create beautiful pages and posts
Layouts and sections to streamline workflow and speed up the creation process
The blocks are fully customizable, so you can change the colours, fonts, and other styles to match your website's design and brand
Provides an intuitive interface that makes it easy to add blocks to your pages and posts
Price: Genesis Blocks is free. Genesis Pro is also available which includes access to all StudioPress themes for $360/year.
3. Kadence Blocks
Kadence blocks are designed for building fast-loading websites. You can create any layout in a matter of seconds, without having to write a single line of code.
Most importantly, the plugin allows you to deactivate the blocks that you will not use. This keeps your editor clean and lightweight, which is ideal for speed.
Features:
Create any number of layout grids, with any number of columns
Brand new Lottie animation with control over speed, loops, etc
Pre-made blocks library to build sites quickly and effortlessly with drag and drop
Includes blocks for a table of contents, testimonials, countdown, form builder, advanced text, and much more
Designed to be responsive and mobile-friendly
Price: Kadence Blocks is a free plugin. However, they offer a paid Pro version starting at $89 per year.
4. Stackable – Gutenberg Blocks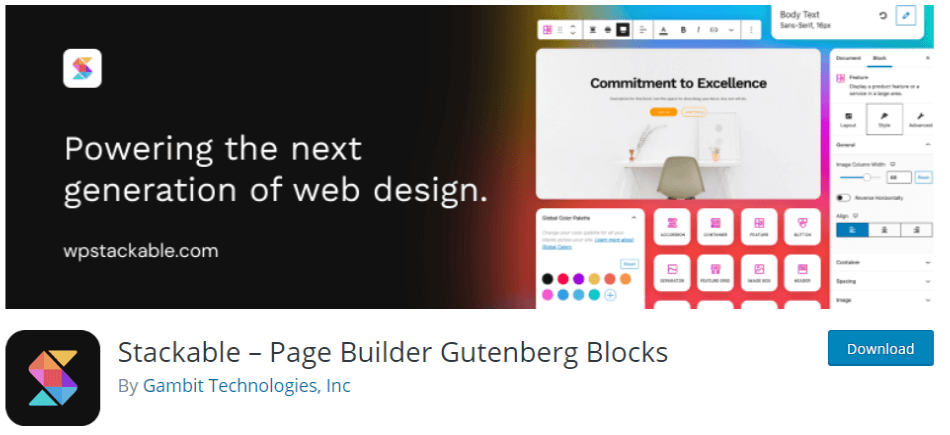 Stackable blocks is a lightweight powerful Gutenberg WordPress plugin built for performance. It transforms the Gutenberg editor into a page builder making it ideal for creating landing pages and entire websites.
Features:
Comes with ready-made designs and UI kits
36 WordPress custom blocks that include layouts, buttons, video popups, call to action, etc
Integration with third-party plugins like Blocksy, Google Fonts, WPML, Font Awesome, ACF Blocks, and more
Fast loading pages optimized for speed with zero bloat, no JQuery, and loads only the smallest CSS and JS files possible
Offers a wide range of stunning effects and backgrounds, these include gradient background effects, image and video backgrounds, fixed images, and more
Price: Stackable blocks is a freemium Gutenberg blocks plugin, with the premium version starting at $49/year for a single site license.
5. Spectra Gutenberg Blocks
Spectra, formerly Ultimate Addons for Gutenberg, is one of the most popular WordPress plugins.
Created by Brainstorm Force the team behind Astra theme used on over 1,000,000+ million websites and some of the best WordPress plugins.
Spectra speed up and enhances the default WordPress block builder, even more than ultimate blocks.
Plus, one of the benefits of using this plugin is that it comes with built-in support for Astra Theme and all their starter sites. Definitely, a must-have if you're using their themes.
Features:
30+ Gutenberg WordPress blocks
75+ ready-to-use websites for any niche to quickly tweak and launch
Ability to easily copy and paste styles from one block to another
Add custom styles to forms created with Contact Form 7 and Gravity Forms
Unique call-to-action buttons designed to increase conversions
Easy-to-use interface
Price: Spectra is free and always will be.
Frequently Asked Questions
What are the benefits of using Gutenberg blocks?
They offer several benefits for both WordPress block developers and site owners. For developers, Gutenberg blocks provide an easy way to create custom content blocks that can be reused across multiple pages or posts.
This helps to speed up the development process and makes it easier to maintain a consistent look and feel across any website.
For site owners, Gutenberg custom blocks offer a simple way to add content to pages without having to edit the code themselves.
Gutenberg changes the way users experience WordPress. The biggest and most obvious benefit is that you no longer need to call in a wordpress developer for every change or update.
How can I use Gutenberg blocks to create a custom layout?
You can combine blocks to create any layout. For example, you could use a column block to create a two-column layout or use a video block and an image block to create a multimedia post.
Do I need a plugin to use Gutenberg?
No, you don't need a plugin to use Gutenberg. However, plugins can offer additional features and customization options.
They extend the base features allowing for more control over your design. With WordPress reusable blocks you only need to style it once and use the same layout across multiple pages.
What are some of the best features of Gutenberg?
Gutenberg offers a lot of flexibility and customization options. You can easily change the look and feel of your content without having to learn a single line of code or hiring a wordpress developer.
Plus, using a Gutenberg block plugin makes your site responsive, meaning it will adapt to any device or screen size. This is especially important for creating mobile-friendly content.
The Bottom Line
When it comes to choosing the best Gutenberg blocks plugin there's no easy way to determine which one is right for you. All of them offer a number of features that can help to build websites quickly.
If you are looking for speed then Kadence and Spectra lead the pack. However, if you want lots of pre-built designs then you might want to consider Stackable.
Ultimately, you'll need to figure out which Gutenberg plugins are right for you and your site. Now all that's left is to start the process of trying some out.
Don't be afraid to experiment. Let us know in the comments below which one you like the best.
No time to build a website? Don't worry, If you need help with your WordPress website, our expert WordPress team is here to help! Contact us today.