CodeCaste is Breaking Into Top Web Development Firms in India
Since the beginning of our journey, We at CodeCaste are focused on nothing but our client's success in the digital landscape.
To us, that is what matters the most. We are humbled to impact many businesses & life through our excellent services in the web design & development area over the years.
So much that we now feel the time is right to widen our impact.
We're happy to announce that we've recently made strides to enter into a new verticle with our Custom WordPress Development services.
Our team has even begun collecting reviews on a B2B platform called Clutch regarding projects that involve such processes with outstanding results.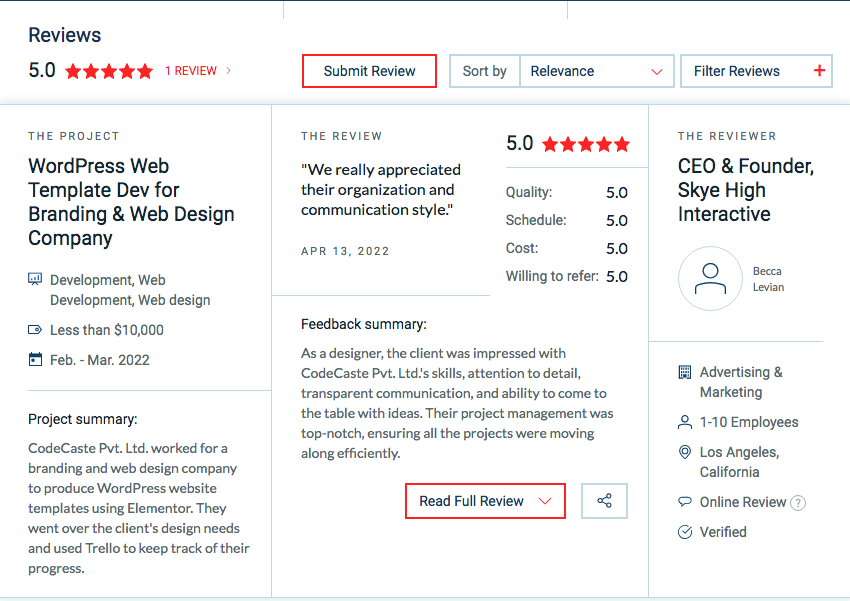 Thanks to our latest reviews, we've been able to accurately measure where we currently stand in the industry.
About Clutch
Clutch is a B2B review and rating agency based in Washington, DC. They help Web design and development firms get listed on their directory for free.

Clutch is used as the best point of reference for potential buyers to hire or seek services for website solutions.
All the best developers on Clutch are given their ranks based on the quantity and quality of reviews they earn from clients. It's a system that takes all the different aspects of running a business into consideration.
Not only are the team's skills getting tested, but it also takes their communication and collaboration into account. Every project and client is different.
How the company adapts to the needs of each of its clients will be a bigger factor in determining success.
Fortunately, we are confident that we already have all the necessary knowledge and capabilities to excel in this field. All we require is the opportunity to show what we can do.
We hope that the more people find us through these new channels, the more chances we get to shine.
CodeCaste – A Website Development Firm
Our current team focus more on custom WordPress website design & development services. Most of the businesses we serve fall under the small to mid-scale tier with a team size of around 1-20 people max.
We are consultative people who love to see our client's business expands while we take care of their web projects. Raising awareness on how having an outsourcing unit in today's day & age is the key to scaling business.
We want to be a catalyst in our client's growth by taking care of their daily development work. We are privileged to work with some of the top brands across the globe from countries like the USA, Australia & UK.
Be it making sites for Lawyer firms, doctors, small business stores, consultancies, real estate, and much more. Our team can be a great extension of your ongoing website development projects.
Website Development Services by Codecaste Includes
UI/UX Design
Frontend Development
Backend Development
Mobile Responsive Development
CMS Website Development
Ecommerce Website Development
PHP Development
We are cost-effective compared to hiring someone in-house and, that too without cutting the corners.
Explore the rest of our website to learn more, or contact our team and begin working with our experts today.