WordPress Gutenberg 5.0 – Take a Short Look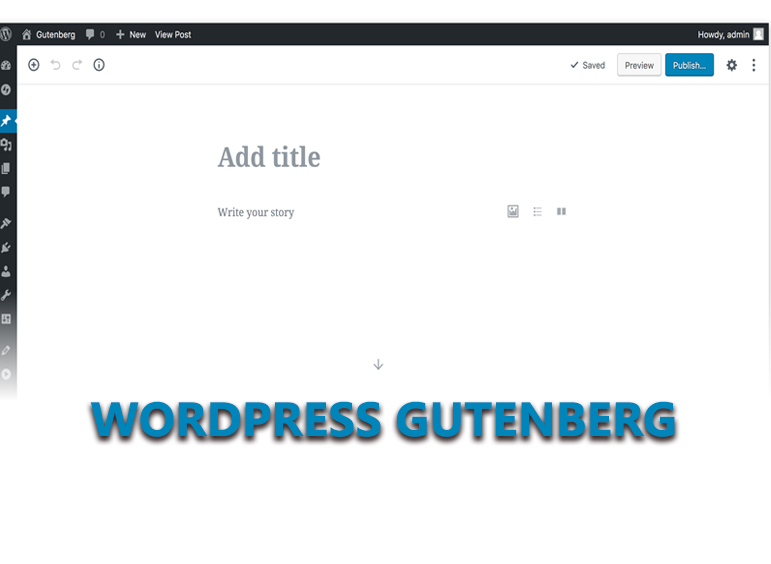 What is WordPress Gutenberg?
WordPress has launched a new feature Gutenberg which will revamp the entire WordPress. Main features and functions of Gutenberg in WordPress are discussed in this article.
There is a new feature Gutenberg in WordPress Developers world. This is a new editing environment which is going to create a huge impact in the coming time. There is a number of WordPress users for whom this is a very new term so here is some discussion on that.
Gutenberg WordPress will create a completely new experience. It will recreate the whole new experience about the posts and editing.  It will make the posts and pages richer for the user experiences.
If we understand it carefully then Gutenberg is not only the new editor of WordPress but it is much more than that. It gives a base for the new developments.  Gutenberg WordPress is being created by WordPress as a part of its three layer strategies to rebuild the entirely new experience for the users.
First one is to introduce a completely new editor. Second is to introduce the newly improved templates. A third is to give site full customization. You can imagine the WordPress as a fully customized site with endless possibilities.  Gutenberg WordPress will help WordPress to become and retain the status of number one CMS.
Some of the features and functions of Gutenberg are discussing below.
Use of Gutenberg for the first time
In all the editors there is an interface but in this new feature, it is not available. It provides lots of space for your content. It also provides a very clean writing environment. The setting has given on the right hand side which is per block or per document. Even there are three dots given and if you click on that then it will let you edit the code which is a great feature.
Gutenberg  WordPress blank canvas
The change is always hard to accept. Some people accept it very easily and some take more time to get utilize to the change. The new feature in Gutenberg WordPress is to give a blank canvas so it has more space and you can create anything you want.  It gives blank canvas in the editing place which gives more possibilities.
Everything is a block
Earlier it was a different scenario on the WordPress website. The content was under the big HTML file with embed, widgets, customs codes, shortcodes, and such things.
Now you can make your content with straightforward and standardized instructions. You can add and relocate the blocks. So, that makes it very easy to create new content.
Specifications in content
You can make specific content with the Gutenberg WordPress. You can add the headings or subheads, add other things like paragraphs, lists, codes, images, columns, buttons, etc. User can even change the content.
Also, you can even add galleries. This will make the whole process very simplified and time saving too. Due to its simplicity of function, it will get massive attention. Every block has its own settings and layouts.
Visual editor
WordPress visual editor with Gutenberg makes the content richer with new editing features. It will soon replace the classic editor. When you will move the cursor to any place it will lighten up the blocks and arrows.
The reposition of the blocks is possible by clicking and moving the cursor quickly. Right now Gutenberg WordPress editor is available as a Plugin and it can install in any WordPress installations.
More Space for Pictures
A picture helps to spread the message and it also helps to make your communication clear with your audience. It is very easy to focus on the picture rather reading the entire material. Gutenberg WordPress gives freedom to add full width and full length pictures.
New Menu
Earlier it was having the insert menu but now it changing into a dropdown menu. That reduces the dependency on Gutenberg WordPress. Even drag and drop image function are available so it becomes easy to copy image. Also, the options are given like recent, blocks and embed in a dropdown menu so it adds more ease in the functions.
Conclusion:-
In a nutshell, Gutenberg WordPress is the new editor of WordPress which is going to launch soon. It has many great features & advanced technology is used but it may take time for few to adapt it. Right now the plugin is available so you can install it and can check the features. More Features here WordPress Gutenberg.