WordPress 6.1 – What's Hot & New?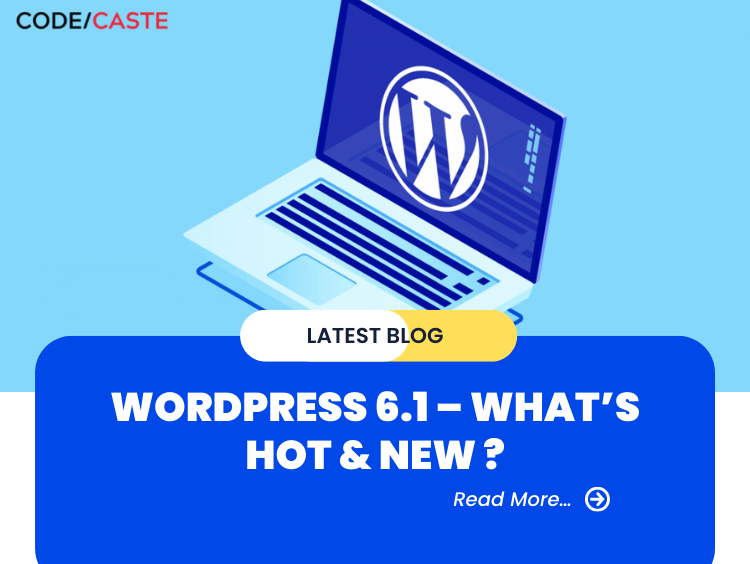 Be it operating systems for phones or frameworks for development, users are always looking forward to new updates. Isn't it obvious?
Well, on the same note, the beta version of WordPress 6.1 is out for testing.
The news says that there are major improvements in the following aspects:
Full site editing
Block editor
Block-based patterns.
This blog will guide you on how the WordPress core update is going to affect the website development and design process.
What can the developers & users expect out of this update, what are the new additions to the tools?
Did You Know? 💡
The WordPress 6.1 core update is also called the 'Misha' or the 'Twenty twenty-three default theme' in the industry.
"I want to update my WordPress website, BUT…"
Your mind might be brewing with these questions right now.
Is this update worth it? Or would this be the same old version with add-on bits?
How safe is this update?
Will this update mess up my existing setup?
These questions are legit. Before pressing that update button, let's understand what's new in the WordPress 6.1 update compared to the previous version.
Difference between WordPress 6.0 and WordPress 6.1
As of now, the only difference is that the default appearance does not have pre-defined images anymore.
With WordPress 6.1 onboard, you shall see placeholders for your images automatically.
Must-Know Statistics Before Updating WordPress Website
We have compiled some figures related to WordPress, let's see:
WordPress powers around 45% of all the websites on the net. This update was long-due and much needed in fact.
This very WordPress new update has been introduced after 400 core enhancements and bug fixes.
What's New with WordPress 6.1?
In the quest to find something better and new, the WordPress 6.1 update ensures that there will be a thorough improvement in the following areas as compared to the previous versions:
Efficiency
User Experience
Stability
Aspects that Underwent Considerable Changes for Developers
To provide the best experience, developers put in a lot of effort to program the backend and frontend.
1. Starter Patterns for All Post Types
When creating a new instance of any type of post, now you can get a pre-designed page rather than a blank one.
At least this will help the developer begin the work with a basic idea of how a page can look.
Wondering How to do so?
In order to enable this feature in your WordPress backend, add the PHP files for the pattern in the theme folder.
You don't need to create a folder for the theme manually, unlike you did until today. Simply create a PHP file named 'faq.php'.
Check out the code snippet for more clarity.
2. Fluid Typography
The theme.json file enables fluid typography. This aids in enhancing the responsiveness of the text.
For example, the text will automatically adjust itself for a user with a bigger screen.
If a user wants to disable the fluid typography, he or she can do so from the settings by setting its value to 'false'.
Whereas, if you're using the older version, the value will be 'false' by default.
You might have to set it to 'true' to enable the same.
3. Block-Based Template Part Support for Classic Themes
This feature in WordPress's new update basically will work like a magic!
It helps to customize and integrate the block-based template sections with non-block themes for merged fun.
WordPress 6.1 is one of those WordPress core updates that will in turn change the way users perceive this content management platform.
What's New for the End Users in WordPress 6.1 Update?
End users can now update/access the WordPress site with utmost ease. We must say that this update has brought with it a lot of flexibility in website handling.
Let's see a few new functionalities below:
1. Improved Block Locking
You can disable the movement and prevent the removal of particular blocks from the settings area.
Basically, you will get more control over locking the blocks and preventing the users from accidentally moving them.
2. Improved Template Options
Especially with the two new templates – page and single post.
In case the available options aren't enough, one can customize the template also.
3. Updated Quote and List Blocks
Headers have sub-headings, and pointers have sub-pointers.
Similarly, Quote and List blocks can now contain inner blocks. Isn't that amazing? All this together forms the nested block structure.
4. Improved Design Tools Consistency
Having separate tools for each block was more of a bane than a boon.
We know you agree with us because inconsistency in the design blocks caused users to switch to custom CSS for editing.
Well, now there is consistency in the design tools that will further allow code-free customization. It definitely is a matter of more ease.
5. Block Spacing Presets
Selecting the pixels of space presets in every block is a pain. It is a fact that nobody wants to take this pain.
Hence, the block spacing presets are now available in seven variants. You can easily apply the same preset to several blocks within a few clicks.
6. Featured Image in Cover Block Placeholder
Nobody likes to go through several steps when it comes to setting images in the cover block.
Chuck the entire loading and image and switch it to the cover image. You merely need to tap on using the cover image option to feature an image.
Benefits of Choosing us for WordPress Development Services
Regardless of which industry you belong to, we can cater to your needs for WordPress website development and design.
Our developers get on-the-job training to upgrade their knowledge because we only deliver the best results.
Having a website helps create a digital presence. And to help you with that, we have a simple solution!
CodeCaste Pvt Ltd team together is skilled to provide services as the best web development company.
For your website development or updating WordPress website purposes, you must opt for our services.
Whether it is building and launching a new website, or re-vamping your existing one, embark on your journey towards success with the best WordPress development company