WordPress.com vs WordPress.org: Which One You Should Use?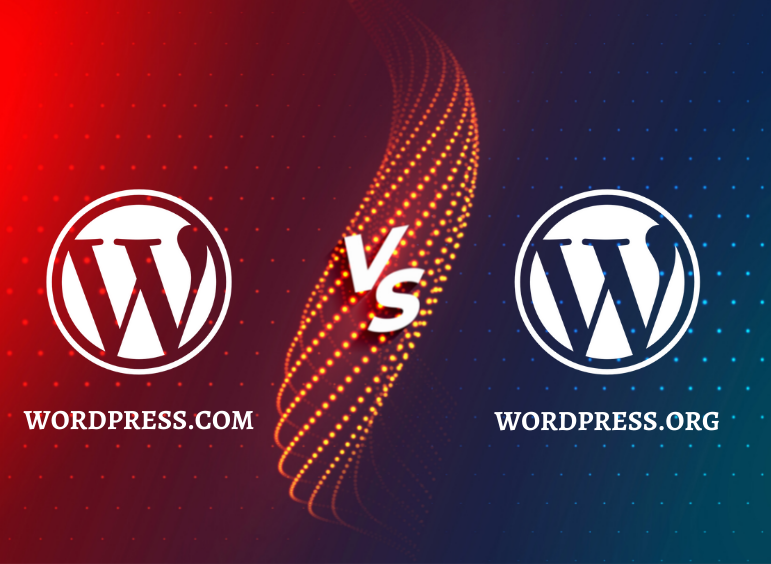 Almost all of us are familiar with the popular content management system called WordPress, which is often considered the best website builder out there. But how many of us know that WordPress.org and WordPress.com are two completely different platforms? As it happens, not many.
At the forefront, WordPress.org is a free, self-hosted platform where you can build and maintain a unique website of your liking. WordPress.com, on the other hand, is a service software with paid plans that helps you manage content, but without much flexibility.
Since a third of the content you are exposed to on the web is supported by one of these two platforms, it is important to have a deeper understanding of the differences between them. Let's dive in and take a look.
WordPress.com vs WordPress.org: Major Differences Let us look into some key aspects and the way the two platforms differ for each.
1. Cost
While the two platforms differ in cost, WordPress in general is a highly affordable option for anyone who wants to launch a website.
WordPress.org, as mentioned earlier, is completely free of cost in itself. However, it is merely a publishing platform. For you to set up and launch your website, you need a third-party hosting provider, domain name, and templates and plugins apart from the default ones offered by the platform. All these need to be purchased and installed externally, adding to the total cost you will pay to have your website set up. We will discuss the pros and cons of running a self-hosted WordPress website in the upcoming sections.
With WordPress.com, you would pay the platform to host your website. The charges come in four different packages, the most basic of which is free. The remaining plans are named Personal, Premium, Business, and eCommerce respectively, in the increasing order of their cost. The basic free plan consists of a domain name, WordPress hosting, and minimum technical support. Meanwhile, each of the paid plans offers you extensive technical support, a customized domain name, and a chance to pick a hosting provider.
2. Customization Options
If you choose WordPress.org, the possibilities for customization are endless. Though you don't have access to a free theme, you can install any third-party theme of your choice. The same applies to plugins of which WordPress offers up to 56,000 options.
A custom WordPress theme is your go-to if you were to choose WordPress.com. But you may use third-party themes with a paid plan. As for plugins, all WordPress.com plans come with basic features. However, if you wish to add to these with third-party plugins, you need to have purchased either the Business or eCommerce plans. Even then, you will only be able to choose from a list of featured plugins.
3. Technical Support
You might be a tech geek, but that doesn't mean you wouldn't be stuck or be faced with questions while managing your website. This is where WordPress's technical support comes in handy.
WordPress.com offers varying levels of technical support depending on your plan. All plans come with basic community support and forums, but 24/7 live chat and priority chat access are only offered in the paid plans. WordPress.org, meanwhile, does not offer much support apart from a few forums on their support page and a knowledge hub of articles.
4. Monetization
Due to its lack of flexibility and shortage of customization options, WordPress.com is not a #1 option if you want to make money out of your website. In addition to the fact that eCommerce capabilities or Google Ads plugins are reserved for Business and eCommerce plan users, WordPress.com also imposes restrictions on affiliate marketing and websites with more than a little sponsored content.
But if you have a self-hosted website with WordPess.org, the monetizing potential is limitless. You can run ads, add affiliate links, publish sponsored content, create membership websites, and add plugins that would enhance the eCommerce functionality of your website.
5. Security
Every website is prone to security threats and cyber attacks, irrespective of whether it is supported by WordPress.org or WordPress.com. In comparison, however, outdated software is more susceptible to threats and can leave you vulnerable to attacks.
Since you pay WordPress.com to take care of your website for you, your themes and plugins are automatically updated without you having to track their status and be concerned about WordPress website security.
With WordPress.org, these updates have to be enabled manually. But unlike WordPress.com, here you can always enhance the security of the website with additional plugins and whatever support is offered by your hosting provider.
6. Hosting
As we've discussed in earlier sections, WordPress.com hosts your website for you, while any website you build with WordPress.org will be self-hosted with a third-party hosting provider.
While with a free WordPress.com plan you are forced to use WordPress's own hosting service, a paid plan gives you the option to choose a third-party hosting provider. With choosing WordPress.org comes the responsibility of opting for the right hosting provider, because the decision would have major impacts on everything from your site's functionality to its security. Self-hosting, however, comes with its pros and cons.
While self-hosting gives you complete freedom over every aspect of your websites such as the hosting provider, domain name, themes, and plugins, you have to find the time to research, identify, and purchase everything that goes into the creation of your website. Since you will be the one in control of your website, you would also have to be well-versed in web development and coding.
WordPress.com vs WordPress.org: Which is Better?
Instead of asking which of the two platforms is better, it is much more practical to ask which one of them is better for you. Each of the two platforms has its pros and cons, and the one best suited for you can be identified based on what you intend to do with the website.
To say it in a nutshell, WordPress.org is the best option for someone with a hands-on approach, have a good knowhow of WordPress CMS & wants full control of their site. Where in case, WordPress.com is the one for you if you are just starting out on a starter budget and don't want to engage in technical and hosting hassles from day one.