Which is Better ? Squarespace vs WordPress Pros and Cons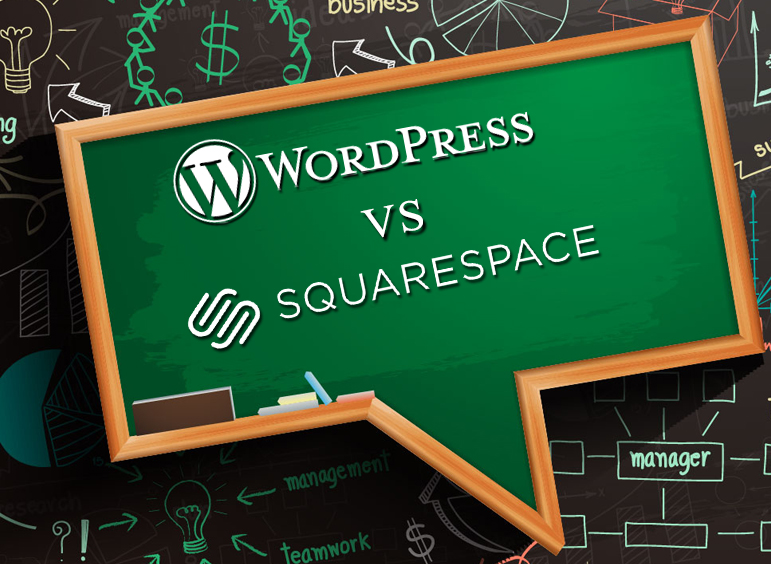 Squarespace vs WordPress: It's Easy If You Do It Smart
Approximately 50000 new sites add daily to WordPress. Almost, 27% of all websites powered by WordPress. Needless to point, WordPress occupies 76.4% market share when it comes to Content Management System or CMS. These aren't the facts driven by the market. It signifies the role WordPress has been playing in ensuring each and every business or individual leverage from the most potent disruption of our times, Internet.
This leaves us with the obvious question as to why WordPress has a near-about monopoly over the CMS! Well, that is too far-fetched and away from reality. WordPress is preferred by most because of the ease of doing WordPress.
The open-source platform is an ocean of resources, and managing those resources is almost a cakewalk if you have a WordPress expert with you. More so, managing the entire backend of the website becomes much easier with WordPress.
Indeed, there are other platforms, which somewhat shares success, but negligible compared to WordPress because users find flexibility, portability, and functionality major issues, where WordPress offers an upper hand to the users.
However, the logical human mind suggests the ideal idea of comprehending one's worth is by comparing it with the nearest competitor. Therefore, we decided to present you with a rundown explaining the difference between Squarespace vs WordPress. Indeed, Squarespace has been in the news for being in the fray that is dominant by WordPress.
What is WordPress?
WordPress offers two different versions of the CMS and website building. One is self-hosted WordPress where you can build your site for free. Another one is hosted WordPress, where you can purchase hosting and use a plethora of features to customize your website as you want.
WordPress bases itself on PHP and MySQL. It is software that delivers ubiquitous performance, unquestionable accessibility, impenetrable security, and effortless ease. Because of being open-source, it has become a community, unlike Squarespace.
What is Squarespace?
Squarespace is an all-in-one website builder, for which you pay to use all its features under one umbrella. Squarespace combines hosting, templates, themes, CMS, e-commerce, and technical support in one solution. However, Squarespace has a drawback for those wanting to tinker with their website. Going above and beyond its template would mean inviting trouble that can't be.
So, from the onset, based on the technical definition, it might look as if there is no difference except, WordPress offers two different choices. However, there are clear distinctions between the two on a number of counts. Let's check them out.
Aim
WordPress:
Wordpress aims to offer a website building platform to those has no knowledge of web development. You don't need to learn CSS or HTML coding. The Content Management System takes complete care of the website. The best part is WordPress allows users unimaginable customization even though you have no knowledge of coding.
Squarespace:
Identically, it also aims at people without the knowledge of web developing. However, One of the basic difference compared to WordPress which is actually a drawback for Squarespace users. Squarespace does not allow customization beyond the limit. It districts users from doing much with its template.
Quality and Quantity
WordPress:
WordPress can never be defeated it seems. Endless themes, standout designs, innumerable features, and a beautiful outlook. On WordPress, users have countless options to choose from high-quality themes. Besides, there is no issue with the security as WordPress reviews each templet before it goes live.
Squarespace:
Squarespace themes are pretty & stand apart comparing to other platforms such as Wix and Jimbo, but 92 in total themes makes users really fix in the box with not much to experiment with.
Mobile Performance
WordPress:
It may require a better configuration and a few add-ons, but WordPress represents and fits in AMP – Accelerated Mobile pages (Google-backed project ensure pages load exceedingly quickly). WordPress represents not only blog pages adequately, but all kinds of pages on Mobile perfectly.
Squarespace:
Leaving here and there the margin for error, SquareSpace tries hard to match the mobile performance of the WordPress and it is improving on a number of counts with regards to the AMP presentation.
Content Management
Those who have used both Squarespace Vs WordPress would blindly put their faith in WordPress when it comes to content management for various reasons.
WordPress:
WordPress offers to version, allowing users to store pages on the system and offering roll back whenever the user chooses.
It allows HTML access while editing to help you see exactly how content displayed.
It offers a well-managed media library, where editing images, videos, and document become easy.
WordPress offers a superior categorization of content and tagging in order to have flexibility and quality representation of website content.
Squarespace:
Content management is a real issue for Squarespace users as it restricts many aspects that WordPress provides genuinely.
In order to save the hosting cost, Squarespace doesn't allow content versioning.
Squarespace does not permit any direct access to HTML during content editing.
its media management is very primitive in this regard.
Squarespace does not have categorization or tagging feature that allows users to present site in a more appropriate way.
Flexibility
WordPress:
WordPress is very flexible in terms of plugins particularly. Besides, the approach to customization in WordPress is smarter and richer.
Squarespace:
Squarespace offers less flexibility compared to WordPress but integrates every aspect into one functional tool.
Easy Functionality
WordPress:
There are intricacies in WordPress as a puzzle that needs to be solved to be a pro. For beginners, WordPress offers hard learning curves. In a battle of Squarespace vs WordPress for SEO, WordPress wins.
Squarespace:
Squarespace is a highly user-friendly platform. It offers very basic drag and drops feature to build a website. Building websites without code are simplified in SquareSpace.
Technical Support
WordPress: Being an open source platform, help is available on lot many platforms, however unorganized. There are many WordPress experts available to provide effective support.
Squarespace:
For technical and product support, Squarespace has a dedicated team. You can learn a lot from readymade tutorials. Even from Squarespace vs WordPress security point of view, WordPress looks robust.
Ongoing Maintenance
WordPress:
Site maintenance is the user responsibility in WordPress. Being an open platform, WordPress provides complete control over all the aspects, technical as well as design. All you need is to ensure your site remains up to date.
Squarespace:
One of the biggest drawbacks of Squarespace is its close user interface, in which all the controls are with the platform. Users are highly dependent on the maintenance work of the platform owners.
Price Comparison
WordPress:
The more you receive, the more you pay for. WordPress May cost you $200 to $1500 annually depending on the plan you choose. However, with high flexibility, customization facility, and lot many plugins, WordPress looks cheaper.
Squarespace:
Less open, less flexible, and without plugins, Squarespace may cost you between $12 to $40 in 4 different plans. However, the functionality of the website is in question. In the totality of Squarespace vs WordPress pricing, WordPress May have the upper hand.
Squarespace vs WordPress For E-Commerce
WordPress:
WordPress compare with Squarespace is so advance that building an e-commerce site is as simple as developing a blog site. Therefore, users do not require any separate tools to build an e-commerce website. All the one requires the use of a few plugins & you are set to do your business. Besides, integrating third-party apps is absolutely easy in WordPress to compare with Squarespace.
Squarespace:
Well, there is no doubt that the Squarespace was designed to capture the e-commerce boom as it has readymade features to build e-commerce websites. However, there are payment gateway limitations. Besides, not having online real-time reporting is a major drawback for users. The worst part that puts users away from Squarespace is it does not allow product migration to other platforms. In a way, it tells no matter how bad Squarespace is you have to use it only now.
Bottom Line:
There isn't much to ponder about when it comes to SquareSpace Vs WordPress as yet, as WordPress is still the most powerful, highly flexible, and uniquely user-friendly platform.
Most importantly, if you have a better WordPress service provider or an expert such as CodeCaste, you are bound to build value for money website that is not only too easy to manage but cost effective too. After having an expert on your side is the best advantage you can have in today's digital age, where nothing is better to evaluate than expert knowledge.
You Can Also Read The Pros and Cons of Wix vs WordPress