4 Best WordPress Alternatives in 2022 – Which One You Should Choose?
Did you know that approximately 7 million blog posts are published each and every single day?  And that 43% of the web is built on WordPress. So what are the other folks using?
While WordPress is the favourite of many bloggers, businesses, and even the White House (Yes, the White House website is also built with WordPress… Google it).
Millions of people use WordPress and absolutely love it. And the best thing is that you don't even need to build your own website.
Just Google the Best WordPress development company and you'll find a ton of great companies that will create your dream website for you.
But today we want to focus on some alternatives to WordPress. Even though it's the most popular blogging platform in the world, it's not for everyone.
Some people find the learning curve a little too steep compared to Squarespace or Wix. Others find self-hosting challenging and expensive.
So, if you're ready to find the best WordPress alternative to build your website? Let's go!
1. Wix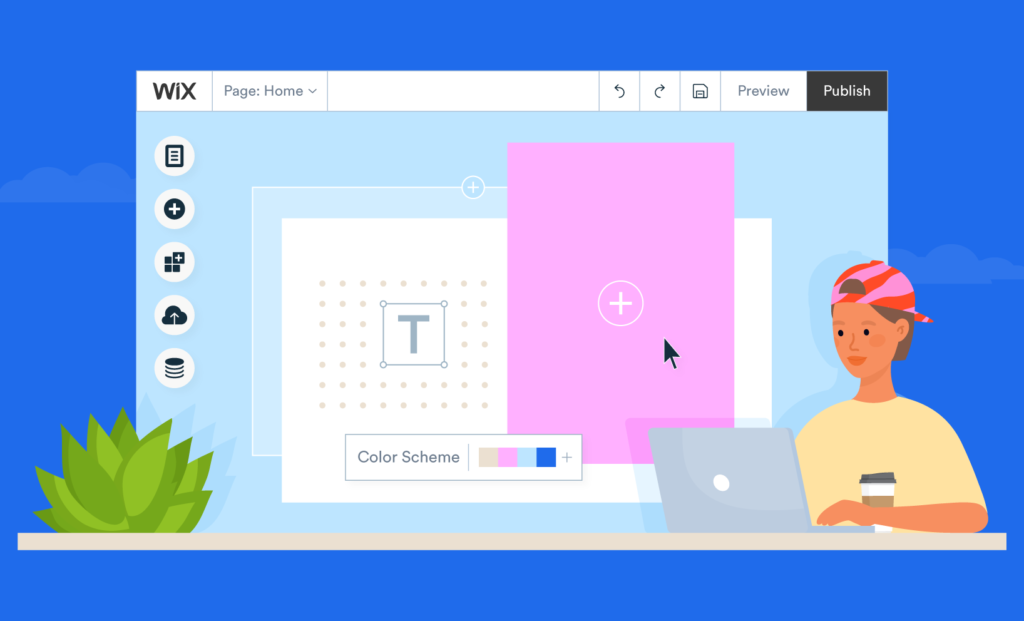 Wix site editor is an online website builder that allows you to create a professional website without any coding, design, or technical skills.
It is a great WordPress alternative for those who want an easy-to-use drag-and-drop interface.
Key Features
Highly customizable.
Easy to use drag-and-drop interface.
There are 500+ design templates available for every type of website.
You can create individualized websites with the help of Wix's artificial design intelligence.
Easy coding for advanced functionality.
Mobile-friendly and SEO-friendly.
Pros
The platform is easy to use.
You can incorporate advanced effects like animations into your website.
It has inclusive packages, including hosting and SSL certificates to help you get started.
Cons
The free plan has advertisements that can be disruptive for users.
You can't change templates once you've selected one.
You can only use the themes and effects the Wix site provides.
Pricing Plans
Wix Editor has a free plan that allows you to create a website with advertisements, but you can upgrade to premium plans to have them removed.
Combo Plan: $8.50 per month
Unlimited Plan: $12.50 per month
VIP Plan: $24.50 per month
WordPress or Wix?
WordPress sites are more flexible than the Wix Website Editor, as they offer a wide range of plugins and themes.
However, Wix is more straightforward to use than WordPress, as it has a drag-and-drop editor and doesn't require any coding knowledge.
Who Should Use Wix?
Because Wix provides several visually impressive layouts, it is an excellent platform for those who want an attractive website without putting in much effort.
It is perfect for people who don't need a lot of customization options hence it's suitable for complete beginners without prior coding knowledge.
On the other hand, those who are more experienced may find the platform lacking features compared to what WordPress can offer.
2. Squarespace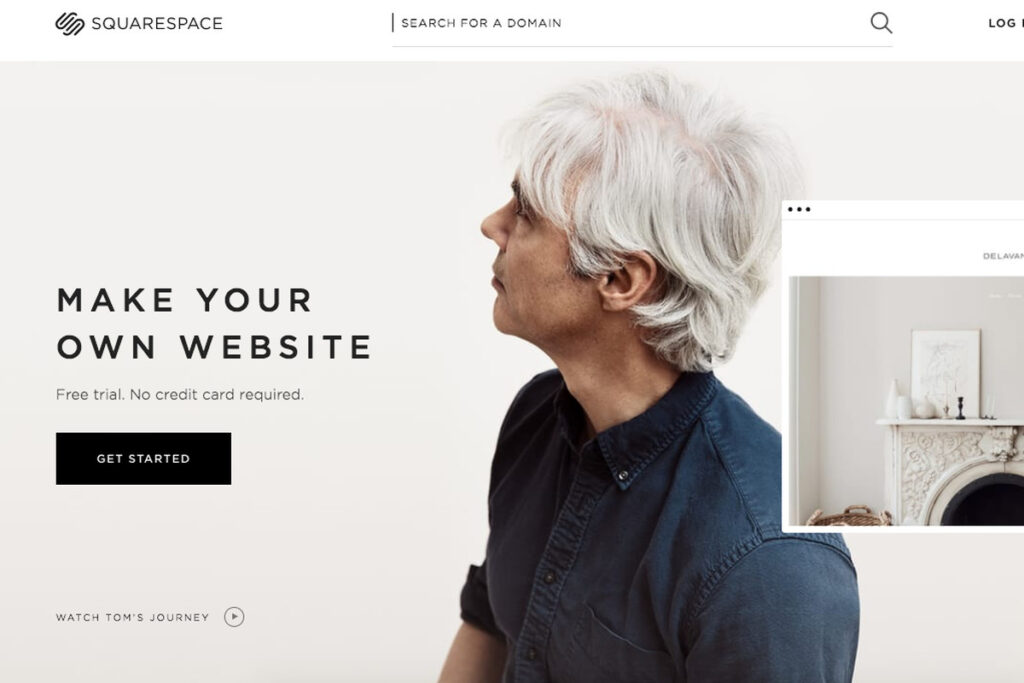 Squarespace is a cloud-based website builder and hosting company that offers a full-featured platform for building sites.
A Squarespace website is simple, easy to use, and affordable for anyone. Creating a Squarespace website is an easy way to have a professional-looking site in no time.
Key Features
Each design has customizable page and content layouts.
Aside from unique layouts, it gives you a wide variety of custom color palettes, Google and TypeKit fonts, free high-quality images, and art, and photo/video editing tools.
Its integrated commenting system involves content moderation, community management, reader feedback to flag spam and/or trolls, and disabling comments.
Safe and secure through a password-generated website so you can lock individual pages to create privacy on your site.
Numerous integrations with apps and services.
Pros
The platform is very user-friendly.
You can take advantage of its modern templates.
It includes hosting and an SSL certificate.
It has unlimited bandwidth and storage.
It has an amazing mobile editor that you can access on your phone, allowing users the freedom and convenience they need when blogging from anywhere in any situation.
Cons
The platform can be a bit expensive for some people as they do not offer a free option.
There are no additional features or purchases available, which makes it difficult for those who want more control over their website.
Squarespace offers SSL certificates for extra security, but they aren't always compatible with every web browser. This can make it difficult to share photos or videos on social media sites like Instagram or Facebook.
Pricing Plans
Personal Plan: $12 per month
Business Plan: $18 per month
Basic Commerce Plan: $26 per month
Advanced Commerce: $40 per month
WordPress or Squarespace?
Squarespace and WordPress are two of the most popular website platforms for managing your content.
Both offer easy-to-use templates, a wide range of features, and plenty of support. But which one is better? It depends on what you're looking for.
Squarespace has an intuitive and easy-to-use interface, making it a great option for beginners.
They also offer professional-looking templates, so your site will look great even if you're not a designer. Plus, you can choose between free or paid plans depending on what features you want, as well as add extra services like hosting if needed.
WordPress, on the hand, is the most popular content management system (CMS) in the world.
It's a little more complicated to use than Squarespace, but also offers much more flexibility, so it's a great option if you want to build a site that's highly customized and features multiple pages.
The possibilities with WordPress are endless. Its CMS is extremely flexible, which allows developers to extend the functionality as needed.
If you have a specific idea in mind of how you want your website to look or function, you can hire a WordPress development company and they can build it exactly as you envision it.
Who Should Use Squarespace?
Squarespace is a great option for personal blogs or small businesses that need a professional-looking website but don't want to deal with the hassle of maintaining it.
It's easy to use and comes with a ton of features that make your site look polished and professional, without requiring any coding knowledge.
It's also really affordable to get started. So, if you're looking for a simple way to build your website, Squarespace is definitely worth checking out.
3. Webflow
Webflow is a fast, easy, and flexible website builder that lets you create responsive websites without code. There are no limits to what you can do with Webflow sites.
With its drag-and-drop interface, you can easily add text, images, and video to your pages. You can also use Webflow to create online stores, blogs, and portfolios.
It's mobile-friendly too so your website will look great on any device.
Key Features
Drag and drop interface so you can easily lay out your website and design your pages.
You can visually build your site with no coding knowledge required, simply by dragging and dropping the elements you want to include on the page.
Your website will automatically adapt its layout based on the device it's being viewed on, so it looks great no matter what.
The live preview allows you to see how your site looks as you are building it.
There are no file size limits or restrictions on how much content can be uploaded per page.
Pros
Its visual editor is what makes it so popular with designers.
There is no need to add plugins because it includes everything you need to build a simple website in the core package.
It provides paying customers with direct customer support.
Cons
It's a bit complicated to use if you're not a developer. That's because it uses code, which means you have to know what that code is doing in order to build your website correctly.
Webflow's biggest weakness is that it's not necessarily as intuitive as other CMSs. You can't just pick up Webflow and start creating websites—you need to learn how to do it. It's a learning curve, and it takes some time to get used to the interface.
It's not free: Webflow is a paid platform, and you'll have to pay for it each month.
Pricing Plans
Basic Plan: $12 per month
CMS Plan: $16 per month
Business Plan: $36 per month
Enterprise Plan: Contact Webflow for a custom quote
WordPress or Webflow?
Both are excellent platforms for designing websites, but they have some key differences that might make one more suitable for your needs than the other.
WordPress has been around for a long time, and it's still the most popular content management system available.
It has a huge community and tons of plugins, which can make it really easy to customize your website's design.
It also has a lot of documentation available online for beginners. Moreover, you can build a WordPress website for free or hire someone that specializes in WordPress development services.
Webflow can be overwhelming at first, especially if you're completely new to web design.
It's also a newer platform so it does not have as much flexibility and plug-ins available as WordPress. Plus, it's expensive comparatively,
Who Should Use Webflow?
Webflow has gained popularity among front-end developers and web designers.
It embraces the complexity of web development, allowing more time to focus on designs.
It is appropriate for anyone who wants the freedom to create content your site needs using uncomplicated tools without the hassle of codes.
4. Shopify
Shopify is a leading eCommerce platform that enables small businesses, big brands, and everyone in between to create an online Shopify store.
Shopify provides a wide range of tools and features that make it easy to get started, including a user-friendly platform and built-in payment processing.
Key Features
A user-friendly interface that makes it easy to set up and manage your online store.
Flexible themes and customization options allow you to create a unique look for your store.
Powerful tools for managing inventory, processing orders, and shipping products.
Integrated payments that make it easy to accept credit cards and other forms of payment.
A wide range of apps and add-ons that extend the functionality of your store.
Pros
Using the platform is easy.
A wide range of features and plugins are available.
The platform is fully hosted.
Cons
Monthly fees can be quite expensive.
The level of customization is limited.
Pricing Plans
Shopify has a 14-day trial. But after that, the price depends on which plan you choose.
Basic Shopify Plan: $29 per month.
Shopify Plan: $79 per month.
Advanced Shopify: $299 per month.
WordPress or Shopify?
While a WordPress site needs extensions like WooCommerce to add an online store, Shopify is already an eCommerce platform.
Since Shopify is designed for online stores, it's easier to use and manage. It is also more costly than WordPress. But it's worth the expense if you want to build a professional online store.
WordPress has more customization options than Shopify does, however, including the ability to create custom themes and plugins that can help make your site look exactly how you want it to look.
Hire the best web development company to build your website. They will understand how to customize and extend the platform to fit your business and make it more functional than it already is.
Who Should Use Shopify?
Shopify is made for businesses of all sizes. Whether you're just starting out or you're an experienced business owner, a Shopify website will enable you to create an online store quickly and easily.
Wrapping Up
WordPress is a great platform for building websites, but it's not the only option available. If you are looking for something different, then one of these WordPress alternatives might be a better fit.
All four of these platforms are capable of building a great website, so choose the one that best meets your needs or preferences. You can't go wrong! Or can you?

With all that it offers, WordPress might still be the best solution for bloggers, businesses, and even eCommerce stores.
WordPress is designed to reach any audience and with its high level of customization, the only thing that's holding you back is your imagination.
Contact a WordPress development company to discuss your ideas and options. Isn't it time to create the website you've always dreamed of?